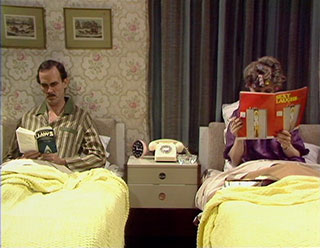 John Cleese, aka Basil Fawlty, has signed an agreement to publish his Autobiography the Independent reports. Cleese will work with Nigel Wilcockson from Random House Books who have acquired the world rights to the publication. The book follows on from his 'Alimony Tour' and according to the big man: "it's the perfect moment to look back on my life in anticipation of the next fifty years.
---
Going against the advice of his former colleagues who he feared would 'knee-cap' him on hearing such news; Fawlty Towers star John Cleese has tied the knot and married for the fourth time. Cleese has married Bath-based Jewellery designer Jennifer Wade aged 41 in a ceremony on the luxury Caribbean island of Mustique, The
---
GARSTANG Theatre Group is ringing the changes this Spring. Instead of its usual musical production the group is presenting three episodes from the classic TV series "Fawlty Towers. The episodes are "The Hotel Inspectors," "Communication Problems," and "Basil the Rat" Secretary Terry Underdown said all the scripts were from the original BBC programmes.
---
Russell Brand, Coldplay and a host of other acts have taken part in a Secret Policeman's Ball gala in New York - the first to take place outside the UK. The Amnesty International benefit at Radio City Music Hall was held to mark the organisation's 50th anniversary. British comedians like Eddie Izzard and David Walliams were joined by such US stars as Jon Stewart and Ben Stiller in the first such event since 2008.
---
ACTOR David Kelly, who made millions laugh as a dodgy Irish builder in Fawlty Towers, has died at 82. Dublin-born Kelly had an impressive stage, film and TV career spanning 50 years. But it was nine minutes he spent as Mr O'Reilly in the hotel comedy classic in 1975 that earned him lasting fame. Kelly became an unlikely sex symbol in his late 90s for riding a motorbike naked in the film Waking Ned.
---
Black Country bride Faye Garrington has told how her dream Princess Di-style wedding did not quite go to plan at a Devon hotel with a "Fawlty Towers" style reputation. Fall-outs with the management, a row with a hairdresser and a revving scooter led to tears and outbursts from bride Faye. See more images by clicking on the picture on the right.
---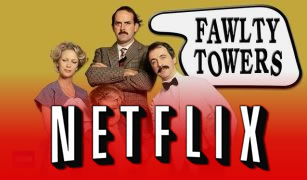 LOS ANGELES (TheWrap.com) - Classic episodes of "Fawlty Towers" and "Miss Marple" are just a few of the titles that will be available to Netflix customers in the United Kingdom and Ireland thanks to a new licensing pact with BBC Worldwide. Starting in early 2012, Netflix subscribers across the pond will be able to access the hilarious mishaps that befall the irritable innkeeper and the small-town murders that occupy the elderly sleuth's time along with other programs from the British television producer, the two companies announced on Tuesday.
---
Veteran comedy producer John Howard Davies has died at the age of 72. After an initial short career as a child actor, Howard Davies worked outside of showbusiness before joining the BBC as a production assistant. Whilst at the corporation he produced and directed series of some of the network's most popular and influential comedy successes: Fawlty Towers, The Good Life, The Goodies, Monty Python's Flying Circus, Steptoe And Son and All Gas And Gaiters were amongst those that he worked on.
---
An original Fawlty Towers script belonging to Prunella Scales has been sold at auction to raise money for north Staffordshire's New Vic Theatre. The actress, who played Sybil in the sitcom, donated it to the New Vic in memory of the theatre's founder Peter Cheeseman who died last year. The script fetched more than £2,000 at Sotheby's.
---
It's been 30 years since the classic comedy Fawlty Towers was first broadcast on television. The antics of Basil Fawlty, his wife Sybil, hapless Spanish waiter Manuel and the ever-sensible Polly grabbed the imagination when it first went out on BBC Two on 19th September 1975. Subsequent re-runs of Fawlty Towers have confirmed its position as one of the finest British sit-coms.
---
The Devon hotel which inspired the classic BBC sitcom Fawlty Towers has been sold for about £1.5m. Show creator John Cleese based the character of Basil Fawlty on Donald Sinclair, a former owner of the Hotel Gleneagles, in Torquay. Husband and wife Panna and Kumar Patel have bought Gleneagles with Mr Patel's brother Keethri.
---
When is that picture frame ever going to get put up Basil? Well, probably never because John Cleese has launched his new web site today (14th November 2004) and it looks packed full of great stuff. More of a mini Television network than a web site really. Mr. Cleese plans to update his site on an almost daily basis from his new television style studio in his home in America.
---
A sitcom starring former Monty Python star John Cleese has been dropped from US television after just two episodes. Bosses at ABC television made the decision because the show, Wednesday 9.30, failed to pull in high ratings. Many good shows need time to find an audience John Cleese Cleese, 61, who played an Australian TV executive who axed shows because of low ratings, was quoted in the Daily Telegraph as saying US TV executives were "scared" by the war for ratings and had "no idea".
---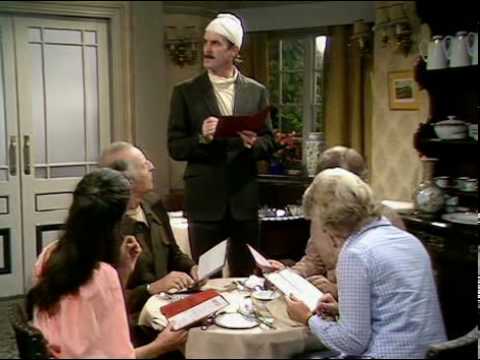 BBC Worldwide's German remake of classic comedy Fawlty Towers will be much like the British original - except for the absence of the "Don't mention the war" sketch. The new series, announced by Worldwide last year, will be produced by Cologne-based company Clou Entertainment and shown on German channel RTL.
---
Madcap comedy series Fawlty Towers is the UK TV industry's favourite British television programme, according to a survey published on Tuesday. The poll, conducted by the British Film Institute, asked 1,600 programme-makers, TV critics, writers and executives to give their professional opinions and personal tastes.
---
Fawlty Towers, the classic British TV comedy series, is to be remade for American television. A spokesman for John Cleese, the ex-Monty Python star who co-wrote the cult sitcom with his former wife Connie Booth, confirmed that a "changed format deal" has been agreed with CBS though he said nothing has yet been written.
---